| | |
| --- | --- |
| Webpage of Ronan Terpereau | |

E-mail: ronan.terpereau@u-bourgogne.fr
Office: 328, aile A, bâtiment Mirande
Phone number: +33 (0)3 80 39 58 33
| | |
| --- | --- |
| Address: | Institut de Mathématiques de Bourgogne - UMR 5584 du CNRS |
| | Université de Bourgogne |
| | 9 avenue Alain Savary |
| | BP 47870 - 21078 DIJON Cedex, France |

I am assistant professor (Maître de conférences) at the Institut de Mathématiques de Bourgogne in the team Géométrie et Systèmes Dynamiques.
I am the PI of the ANR JC/JC Project FIBALGA (FIBrations and ALgebraic Group Actions), 2018-2022.
I am also a member of the ISITE-BFC Project Motivic Invariants of Algebraic Varieties, 2018-2021.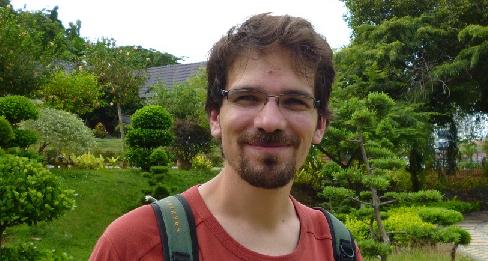 Fields of research
Representation theory and invariant theory

Moduli spaces of algebraic varieties equipped with algebraic group actions

Quasi-homogeneous spaces, spherical varieties, varieties of complexity one

Deformation theory and algebraic stacks

Symmetric pairs, graded Lie algebras, commuting varieties

Resolution of quotient singularities and symplectic singularities

Algebraic subgroups of the Cremona group
---
Seminars and special events
Webpage of the weekly GSD (Géométrie et systèmes dynamiques) team seminar at the IMB (Dijon).

Webpage of the weekly clopen seminar at the IMB (Dijon).

Some future events I (co)organize:

Some past events I (co)organized:
---
Research papers
Horospherical stacks (joint work with Ariyan Javanpeykar and Kevin Langlois)
To appear in Münster Journal of Mathematics.

Stability conditions and related filtrations for (G,h)-constellations (joint work with Alfonso Zamora)
International Journal of Mathematics 28 (2017), no. 14, 34 p.
DOI: 10.1142/S0129167X17500987

Towards a symplectic version of the Chevalley restriction theorem (joint work with Michael Bulois, Christian Lehn , and Manfred Lehn)
Compositio Mathematica 153 (2017), 647-666.
DOI: 10.1112/S0010437X16008277

The Cox ring of a complexity-one horospherical variety (joint work with Kevin Langlois)
Archiv der Mathematik (Basel) 108 (2017), no. 1, 17–27.
DOI: 10.1007/s00013-016-0979-y

On the geometry of normal horospherical G-varieties of complexity one (joint work with Kevin Langlois)
Journal of Lie Theory 26:no. 1, 049-078, 2016.

Invariant deformation theory of affine schemes with reductive group action
(joint work with Christian Lehn , the corresponding MACAULAY2 files are available here)
Journal of Pure and Applied Algebra 219:no. 9, 4168-4202, 2015.
DOI: 10.1016/j.jpaa.2015.02.013

Moduli spaces of (G,h)-constellations (joint work with Tanja Becker)
Transformation Groups 20:no. 2, 335-366, 2015.
DOI: 10.1007/s00031-015-9311-3

Invariant Hilbert schemes and desingularizations of symplectic reductions for classical groups
Mathematische Zeitschrift 277, 339–359, 2014.
DOI: 10.1007/s00209-013-1259-1

Invariant Hilbert schemes and desingularizations of quotients by classical groups
Transformation Groups 19:no. 1, 247-281, 2014.
DOI: 10.1007/s00031-014-9253-1

Proceedings Invariant Hilbert schemes and resolutions of categorical quotients
Oberwolfach reports (17/2013), workshop Algebraic Groups.
DOI: 10.4171/OWR/2013/17

PhD thesis (2012) Schémas de Hilbert invariants et théorie classique des invariants
---
Teaching / Enseignements
Depuis septembre 2017 je suis responsable des mémoires de M1, la liste des sujets pour l'année 2018-2019 se trouve ici .

Supervision of students (see the list here)

Préparation à l'agrégation (M2)

Algèbre linéaire et bilinéaire (L3)

Mathématiques pour l'économie (L2)
---
Some useful links